Gift Ideas for Every Cyclist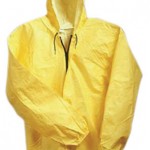 Waterproof Rain Jacket – O2's ultra lightweight and packable Original Series gear is the most affordable breathable rain gear you can buy. It comes in just one color: safety. It's perfect for casual riders or dedicated race spectators. Only $33!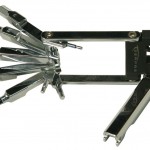 Multi Tool – lightweight and compact, a multitool provides every tool necessary for road or trailside repairs. They are an easy to carry tool for any biking emergency, although they don't replace their full sized counterparts for serious repairs. Starting at $10!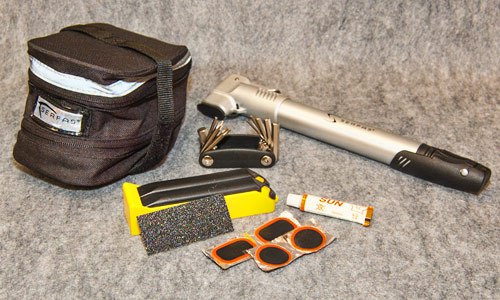 Flat Kit – in addition to the multi tool, it's important to have everything needed to repair a flat on the road. These are items that every biker uses, and will have to replace so they are a great idea if you're unsure what your loved one already has. Look for a complete kit, or buy items such as tire levers, patch kit, co2 inflators, and tubes. Starting at $30 for the complete kit!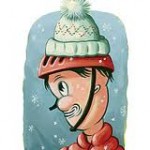 Cold weather items – gloves, hats, baclavas, leg and arm warmers are a great idea for the passionate cyclist who can't stand the idea of biking on a trainer. Starting at $15!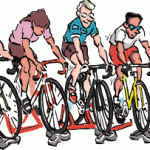 Trainer – if your loved one absolutely hates the cold, but loves to ride, get them a trainer to allow them to ride indoors on their own bike all year long! Starting at $119!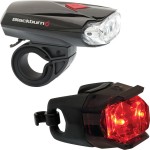 Lights – No biker wants to be caught in the dark without lights, a good front and rear light are an essential part of any cyclists kit. Lights range from saftey lights, to lights that are as bright as a car lamp. Starting at $10!
Computer – a computer tracks how far and how fast you travel by bike, without having to rely on a cellular signal. Much more reliable and accurate than any cell phone app. Many computers off functions a cell phone app can't, such as cadence, speed comparison, and total ride time and distance. Starting at $25, with free installation for the holidays!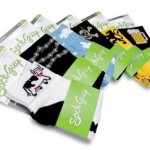 Socks – Everyone wears socks (I hope). And these Sock Guy socks aren't just cool looking, they're wicking and breathable. Perfect for pedal of your bike. Starting at $9!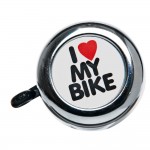 Bell – sweet and simple, a bell is required by law to be on any bike on the road. Find one that matches your cyclist's personality! Starting at $6!